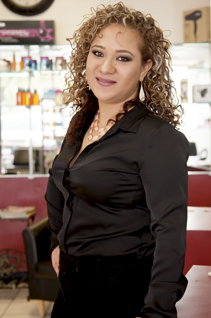 Imelda Gomez began her love and passion for the Beauty Industry back in 2001. Aspiring to be a professional Hair Stylist, Imelda dedicated her time and effort to grow as an Artist. After nearly 12 years of hard work , countless educational classes, experience, and growth, Imelda opened L'Shear Hair Salon's doors in November 2011 after dreaming of having her own salon.
L'Shear Hair Salon is located at 10544 Cypress North Houston Rd. and owns over (land) making it a perfect hair salon and spa getaway. Turning and ordinary Houston home into a Hair Salon making your experience much more unique and unforgettable!
L'Shear Hair Salon specializes in all types of chemical services, including: Highlights, Balayage, Ombre, Permanents, as well as, Hair Extensions, Keratin Treatments, and much more! We pride ourselves in giving our clients the best quality of work through our color educated stylists, our extensive knowledge, professionalism, attention, as well as providing them with the best care that their hair needs to look beautiful and healthy.
With help and love of our amazing clients, we will continue to serve our Houston Beauty's achieve their desired hair look!
Always remember to "invest in your hair, which is the crown that you never take off"
See you in Paradise!